Well done Arsenal, you won a game! Have a big, fat, patronising pat on the back. Things were deliciously hilarious at half time but thankfully for me, the Gooners came back from 2-0 down to win 3-2 and most importantly, I won my bet.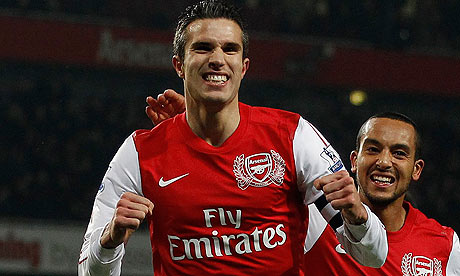 the Guardian
That's a lovely photo. At half-time boos were ringing around around the Emirates cafe. Aston Villa had about two shots on goal in the first half and scored twice. Arsene Wenger borrowed Alex Ferguson's hair dryer at half -time and presumably shouted at his players for being really shit. Then he pooped everywhere or whatever it is that owls do.
Three goals in about five seconds in the second half, swiftly turned things around. RVP scored two penalties, which were the bread to Walcott's goal sandwich filling. After the game, Walcott said he's really good at ping-pong, perhaps he should think about changing his profession because he is terrible at football. I say terrible, he is better than 99% of everyone in the world who plays football but it's fun to take the piss out of him isn't it?
Could Arsenal win the FA Cup? Yes. Will they? Probably not. Will Metesacker do something hilarious like score a 30 yard own goal? Most likely.