Forgotten man Alexander Hleb completely fucked his own career when he left Arsenal for the glamour of Barcelona and then learned that sitting on the bench isn't very fun. Now they are set to release him from his contract, Liverpool and QPR have boners.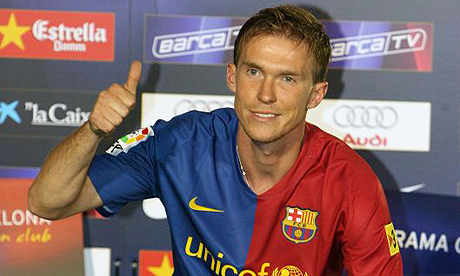 image from the guardian.co.uk
In this rare picture of Hleb in a Barca shirt he looks sort of happy, but what followed on from this moment was a world of misery. He even had to go to Birmingham for a while. Wolfsburg just cut his loan spell with them short because he was so terrible, so unfit, out of form and beyond repair that they couldn't even bare to look at him anymore. His face they said, is "like an unwanted labrador". I made that up.
The winger/midfielder earns around £90,000 a week at the Catalan giants and clearly no-one is going to pay that except someone mental like Liverpool, who do seem to sign people based purely on reputation. Didier Drogba could be decapitated and Dalglish would still consider it a 'risky but worthwhile move'. For £70million.