That cheeky-chappy, perhaps racist but always fiery, figure Luis Suarez is being investigated by the FA again. What has he done now?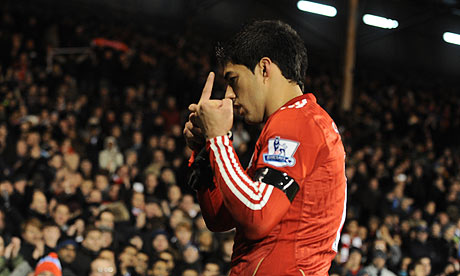 As the picture quite clearly shows, he gave the middle finger to the Fulham fans. In defence of Suarez, the Fulham fans were chanting "cheat, cheat, cheat" every time he got the ball. The fact that he is a massive cheat is neither here nor there. He put the ball to one side of Hangeland and ran round the other. Hangeland then leaned in slightly and down went Suarez. Ray Wilkins came out with his usual nonsense. Something like, "I can't see what Hangeland has done wrong there. There is definitely a bit of obstruction but he's just standing his ground." Obstruction is a foul, you ridiculous humpty-dumpty half-egg humanoid.
Suarez will need to tread carefully, he is already being investigated by the FA for ALLEGEDLY calling Evra that racist word that we are not allowed to say. He is also a confirmed cannibal and actually ate another player when still playing for Ajax. If you don't believe me then good, you definitely shouldn't.