Serie A legend Christiano Doni has already been banned for three and a half years by the Italian Football Federation, essentially retiring him. It doesn't get any better for Doni, now he's been arrested.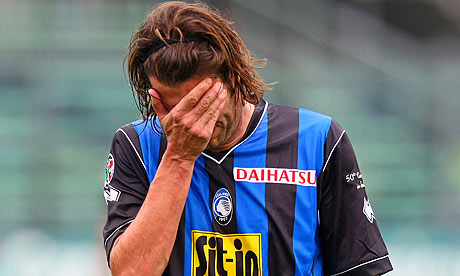 The police arrested Christiano for his role in match-fixing and illegal betting. There were actually 17 people arrested in total but Doni was the only good player so that makes him the most evil. I guess these guys just do it because they are bored. Perhaps they should read a book or learn the guitar rather than make some pocket money and get arrested.
Italy has always been a dodgy league. It must be a nightmare for these players, for years they were getting up to these shenanigans but nobody gave a shit. Then Juventus went and ruined it for everyone. I'm looking forward to the match-fixing option being brought into Football Manager.
I think I've seen this movie. Doni becomes the player/manager of the prison football team who have a game against the prison guards. At first, the team of misfits struggle to play as a team and are only interested in getting petty revenge and one-upmanship but Doni manages to create a real sense of pride and togetherness. However his past comes back to haunt him and he is blackmailed at half-time to fix the match. It looks as though he's sold out again but then right at the end, he fully redeems himself by passing the ball square for Danny Dyer to tap into an empty net for the goal that wins the game. Everyone celebrates and I think they end up banging a football team from an all women's prison. What a shit film.