How controversial! Mario Balotelli and Micah Richards had to be kept apart in training. The two were fighting over who is (has) the biggest dong.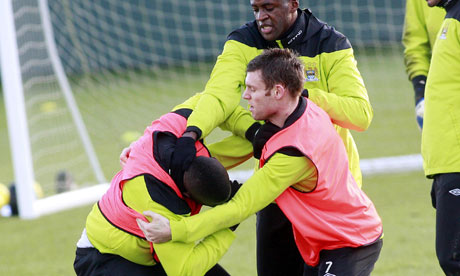 Yaya Toure was the peace keeper and also the prize winner of the biggest dong trophy. I'm not sure why Milner is doing getting involved. The two clashed at the end of training. They exchanged words, squared up and then presumably did that really annoying thing that footballers do. You know when they butt chests, then lean their heads into each other and kiss. Or slap each other. Whatever they do, it's really gay. I wouldn't care if they were actually gay. It would probably be more manly for them to bang each other on the pitch rather than the slapping matches we usually see.

It's all been sorted out now, Micah Richards posted on Twitter that they were BBFs and these things happen in training. "Passion" they call it. Mancini will probably ban them from playing FIFA or something equally ridiculous. Remember when John Hartson kicked Eyal Berkovic in training? Now that's passion.