Craig Brown has been in the papers a lot this week. He has been telling anyone who will listen that Aberdeen are better than they were a year ago when he took charge. They are not.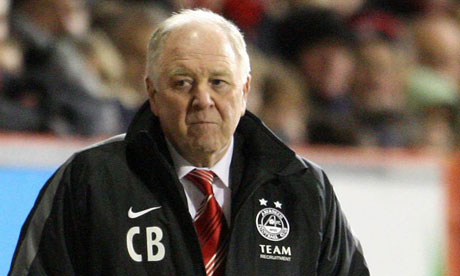 Brown was going round Aberdeenshire talking to the fans and reassuring everyone that things are hunky-dory. He said that not one person he spoke to brought up the fact that we are fucking shite and he's not really done anything to improve us. I think he's probably lying, or perhaps senile. He is about 900 after all. I'm being harsh on Brown, he's a lovely man but it is fucking embarrassing to look at the table on the 10th of December and see us joint bottom of the league with 14 points.

Today was one of the few days where Aberdeen fans actually thought we could get a win. At home to St.Mirren, we took the lead after about 40 seconds. After 16 minutes we were 2-0 up. Then we remembered we are Aberdeen. St.Mirren scored, we shat ourselves. It ended up being 2-2 and we had our best player sent off. All in all a solid display from the Dons and plenty refereeing decisions for us to blame for the dropped two points.

My brother asked if I wanted to go up to Inverness to watch us play Caley Thistle on Christmas Eve. I'd rather blow Santa Claus or get raped by Rudolph.