As the headline suggests, tubby defender Toure could leave Manchester City to join the French version of Man City, Paris Saint-Germain.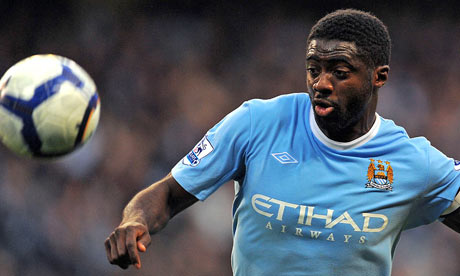 from the guardian.co.uk
I didn't actually realise but Kolo Toure has already served his 6 month ban from football. According to the internet, Toure was obsessed with his "fat belly" so he was hammering back diet pills to try and control his weight. It had a banned substance in it which resulted in him failing a drugs test. Oops.
Perhaps I am being rude but Toure is a professional footballer. He surely has a personal trainer, nutritionist, dietitian, the best gym facilities available and let's not forget it is his job to stay fit and work out. How the fuck does anyone with all these things so readily available still have problems with their weight? Learn some self-control and put the fucking pies down. Seriously with all the training you are doing, how much are you actually eating?
Kolo says there has been interest from PSG. They are a similar club to City, in that they will be happy to pay him and obscene wage. If he cannot get his space in the team back from Joleon-Clingon-Lescott then he could be on his way in January. Signing Kolo Toure after the Christmas holidays? Better order more diet pills.
I saw a photo of Toure with his shirt off. If he's fat, I'm this guy.