Spanish players are going on strike which will delay the start of their season. Turns out they are not actually getting paid.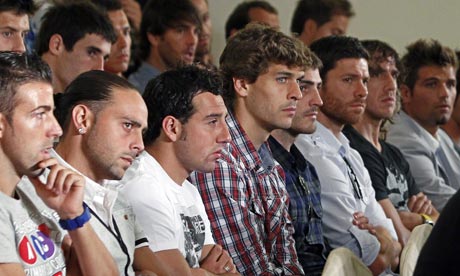 Spanish people demand siestas, two hour lunches, 100 days holiday a year and now they also want to be paid. Lazy bastards. The Spanish season will be delayed by two weeks as they called in the players union to organise a strike.
It would appear that some clubs literally can't afford to pay their players. You actually get the same amount of money (roughly) for finishing bottom of the English Premier League than you do finishing third in La Liga. Unlike in Britain, in Spain when a club cannot afford to pay a player they just carry on regardless. Players are given free board and breakfast.Tea and coffee is available 24 hours a day and they have free wi-fi. However they do have to stay in 8-bed dorms which can get frustrate players when they are trying to sleep and one of their room-mates stumble in hammered at 5am, crawl into the wrong bed and piss themselves.
Ironic that in the picture above I recognise Puyol, Xabi Alonso, Llorente and Cazorla.. Between the four of them, they could probably end poverty in Africa.
It has been pointed out that Casillas is also in this photograph. I couldn't see past Llorente's sexualness.