Half owl, half wizard, Woy Hodgson is determined to continue in his deep seated tradition of signing players he's already signed by 'investing' £10 million in Andy Johnson, according to
the Daily Mail
today: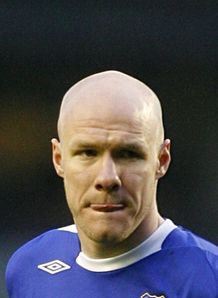 image yoinked from Sky Sports




West Brom are planning a summer swoop for Fulham striker Andy Johnson.

Baggies boss Roy Hodgson worked with the forward at Craven Cottage after paying £10million for him in August 2008.

But Johnson has since been hampered by injuries at Fulham and may leave in the summer.
Nothing interesting, or conformational there at all really but let's just assume it will happen because it's the kind of thing Woy would do, and any manager who wouldn't accept £10 million for an injured average striker is mental. Johnson also looks like he's permanently wearing a morph suit, though I do say that about most bald people tbf and that doesn't really have any bearing on how good he is if you think about it. In football land handsomeness is almost a polar oppositeness to 'talent': Ronaldinho looks like he lives in a cave, Ibrahimovic could competently mine for diamonds with his giant nose and Frank Ribery
inadvertently
forces Priests to every football ground he's played to bless them incase he's made them haunted.