Poor old Shay Given is the latest awesome goalie to be linked with Manchester United: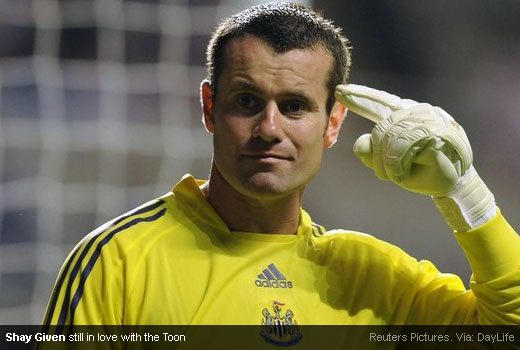 Manchester United's search for a suitable replacement for soon to be retired Edwin Van der Sar will reportedly see Sir Alex Ferguson attempt to lure

Shay Given

from local rivals Manchester City. The Old Trafford boss has seen his moves for a succession of keepers seemingly falter and the Scot is now looking to bring the Irish international to the club.

Ferguson has attempted to secure deals for both Schalke custodian Manuel Neuer and Liverpool goalie Pepe Reina and has also apparently failed to persuade Atletico Madrid youngster David De Gea to leave Spain for the Premier League.
Shay is one of those players that everyone loves - he's small, never moans about anything despite being on the bench for Mancini and having to put up with Newcastle's shit for about 10 years, and he's really, really good. The problem Utd have here is that Shay won't want to move now because he's their 9th choice behind almost every other goalkeeper you can name. It's like a girl I used to know who was sitting a table in some bar with her friends in Aberdeen when a guy came up and asked the group 'are you single?' to which 2 out of the 3 said yes, so he replied 'do you want a drink with me?' to the most attractive of the females. She turned him down and then he turned his head to the 3rd option and asked 'how about you?'. Suffice to say this is not only a bad way to pick up women but also premier league goal-keepers.