ALLEGEDLY
Bit of a twist on the structure of the last article it would seem. So somehow Lauren Blanc has been
cleared of discrimination.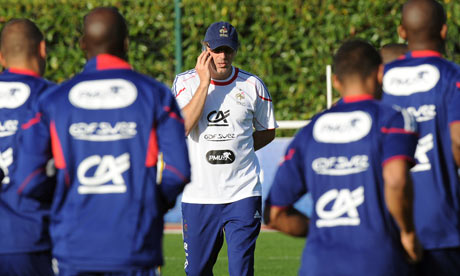 Hello, Police? There's a group of black guys hanging round the park....
Blanc who is definitely innocent, was caught up in a huge racism row after it appeared that he and a lot of other people involved in the FFF (French Football Federation of course) seemed to agree on bringing in a quota for how many dual-nationality (african) players could be inducted into the youth academies in France. Blanc was cleared over any wrongdoing, despite in the words of the French Sports Minister, the comments being
"borderline tending toward racist".
I will just quote the Guardian to make life easier and stop me getting sued.
"In the transcripts, Blanc reportedly favoured the idea of quotas and made comments about "big, strong, powerful" black players. The transcript showed him favouring players with "our culture, our history". He reportedly cited world champions Spain as an example: "The Spanish, they say: 'We don't have a problem. We have no blacks.'"
It is suggested that perhaps the player revolt at last years world cup was somehow related to the fact that a lot of the players involved were of African or Arab descent and don't have a true French identity. Rather than the fact they were forced to be coached by a bumbling retard who looks like the transvestite comedian Paul O'Grady.
Going off on a completely unrelated tangent. Gennaro Gattuso has been in the news over in Italy for being filmed in his pants, dancing with the AC Milan Ultras and singing "Leonardo is a man of shit, man of shit". Leonardo is the current manager of Inter Milan, after crossing the divide from AC. You can watch the video. What a complete mentalist.