Arsenal midfielder and prolific Tweeter-er, Jack Wilshere, will be left out of the European Championships Under-21 squad this summer. Or will he?!!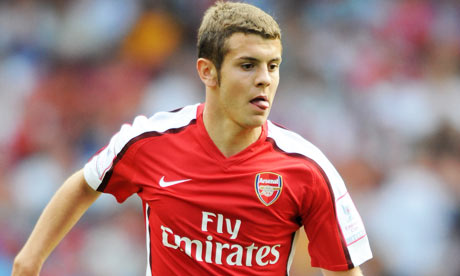 picture from The Guardian
From
The Daily
hatred
Mail
:
Jack Wilshere is expected to be named in the senior England squad but then omitted from the Under 21 party for the coming European Championship finals, after holding talks with Stuart Pearce.

While the 19-year-old midfielder has not told Pearce he no longer wants to go to the tournament, he has echoed the concerns expressed by Arsenal's sports science department that playing in Denmark could put him at serious risk of injury.

Wilshere has made 58 appearances for club and country already this season and physiologists at the club have presented him with the evidence that proves his performances have taken a significant dip in the last month.
Arsene Wenger is understandably obsessed with not having all his players injured in International matches because it seems to happen a lot and he hasn't won anything for a while. Robin Van Persie actually managed to turn up to some games this year and it turns out he's actually pretty good at football so maybe the Owl Manager is on to something. Unfortunately for Wilshere this is about the only chance he's ever to going to have to win something in an England shirt, unless there's a Cyber Warrior championship.
Wilshere is just about the only footballer in the world whose Facebook comes up as a top search result on Google, so just think that when you sit on your laptop constantly hitting refresh waiting for something interesting to come up on your newsfeed, this guy is probably doing the same except he's got heaps of money, looking forward to going to work at his dream job tomorrow and he's 19 years old with, I would assume, an army of sluts gagging to friend request him.
How does that make you feel?