FC Porto won the Europa League final
tonight 1-0
, in an all Portuguese Man-o-war, against Braga.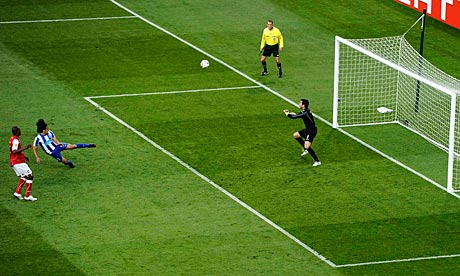 Photo from le Guardian
Porto finished a mere 38 points above Braga in the league this year so of course we were all expecting a close game. Deciding the best way to win the game was to defend for 120 minutes and hope for penalties, seemed to be working for Braga until a minute from half-time, when they forgot to defend and left Falcao completely unmarked to head home.
Braga have already lodged a complaint with UEFA due to the fact that FC Porto were playing a marvel comic book superhero by the name of Hulk. From the Guardian -
"

The threat posed by Hulk's muscle, together with the delivery of Silvestre Varela and Fredy Guarín, rarely subsided"
Playing a giant green muscle-bound monster upfront, is apparently a grey area for UEFA and will be under review this summer. Frank Ribery, Joleon Lescott and Carlos Tevez have been vocal in their support of their fellow half-human half-monster. Tevez is the most high profile and talented half-breed playing professional football today but he said recently that he and all other mutants owe it all to Ian Dowie for giving him the confidence to come out of his lair and onto the pitch.