The FA Cup 3rd/4th place play off was won today by Stoke who somehow scored 5 goals that weren't headers or from set pieces.
Bolton Wanderers 0-5 Stoke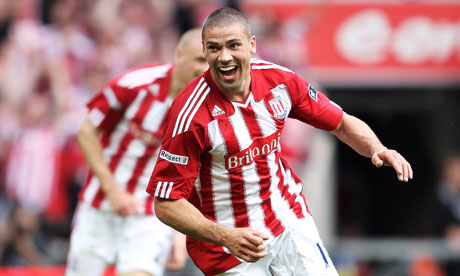 Pre-match Owen Coyle was receiving all the plaudits for the great football his Bolton side play. Without the one man attack Daniel Sturridge, Coyle used his tactical wizardry and decided that to beat Stoke they should pretend to be Stoke, this entailed lumping the ball forward as early as possible to big Kev(in Davies) and hope he would either flick the ball on for someone or header the ball into the net from 40 yards out. Surprisingly this genius plan didn't quite work against perhaps the most physical team in the league.
Pulis said lots of boring things after the game like this
"We knew we would be criticised for certain things we do and we don't do. But if you look at the team today compared to the team that started for us in the Premier League, we have improved"
"You have to be strong, the players have to be strong because you will get criticised. I am pretty single minded in what I think and how I think a football club should evolve from being a Championship club to a Premier League club"
Matthew Etherington again showed he is easily England's best left footed wide player but since he plays for Stoke, his chances of ever getting a call up are about the same as my chances of driving a Ferrari F430 Spider into Ashley Cole, reversing over him just to make sure he's dead, before heading over to Cheryl Cole's house to make love before watching Home Alone with a glass bottle of Irn-Bru.